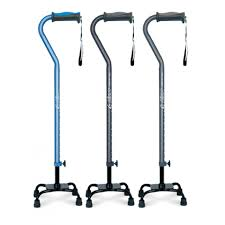 Ergonomic handled cane that can be fully adjusted and is available in both the large base and small base. Colours: Black, blue or charcoal.
Description
Ergonomic Handle
Cushion-top conforms to your hand and helps reduce impact shock transfer
Designed to fit more comfortably in your hand.
Cane strap with reflective patch for added night time safety.
Quad base
K-shaped quad base provides greater stability
Can be easily rotated to allow for left or right hand use without getting in the way.
10% More Adjustable
11 individual height settings offer an unparalleled range of adjustments that fits most people 5′ – 6'5″.
Cane height adjusts from 28″ to 39″.