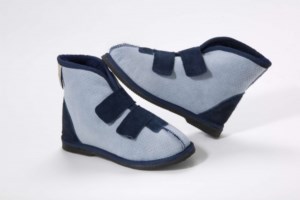 The DiabPro gives protection to feet, and everyday comfort to delicate skin.
Description
The DiabPro has a narrower sole width compared to other Shear Comfort footwear, and has a posted support at the heel. This boot has a slimline design that makes it perfect for everyday use.
The narrower sole and reduced bulk gives the boot a sleek look, and is designed for active users who use the boots when walking around the house or outside. Two Velcro straps fasten the boot securely across the top and can be adjusted to accommodate swelling.
All Shear Comfort products are machine washable, and guaranteed against deterioration for up to 50 washes.
Sizes:
XXS, XS, S, M, L, XL, XXL