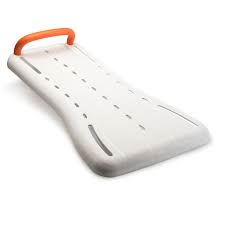 The award winning Etac Fresh Bath Board is an industry benchmark. The wide front edge, placed on the outer side of the bath, provides maximum support during transfers. 150kg weight capacity. 5 year warranty.
Description
Narrow midsection facilitates easy access for intimate hygiene. Inside edge designed to hold soap and shampoo.
Easy mount edge 'stops' are easy with four friction linings for secure hold on the bath.
Available in two lengths to fit different sized baths. Orange support handle for enhanced safety fitted as standard.