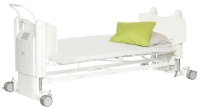 The aesthetically appealing FloorLine-i Plus is a complete care management solution.
Description
With its extensive range of features such as Trendelenburg, cardiac chair position and electronic CPR function, this bed offers our highest level of care. With its open bus digital control box, it is also future proofed for adding even more accessories.
The FloorLine-i Plus is the perfect solution for preventing fall injuries. Its minimum height from the floor is just 10 cm (3.9"). At the same time, no compromises are made for excellent ergonomic working height reaching 80 cm (31.4").