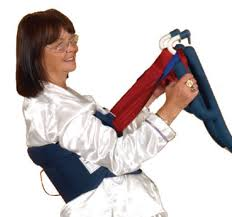 The Invacare Standup Slings are designed to lift the patient comfortably from a seated position into a relaxed upright position.
Description
he high-cut, padded Stand Up Sling supports the patient from waist to shoulder while allowing the arms to move freely so that the hands can reach naturally to grip the support rails as the patient rises. As the boom of the Lifter is raised to a relaxed upright position, the sling behaves so naturally in it's follow through support, that the high lifting speed of the Lifter allows patients who can sometimes stand by themselves to be safely followed up by the sling they are actually wearing. Recommended for patients with a reasonable level of weight bearing ability.
Loop attachment sling
Designed for use with the Invacare Roze stand-up lifter.