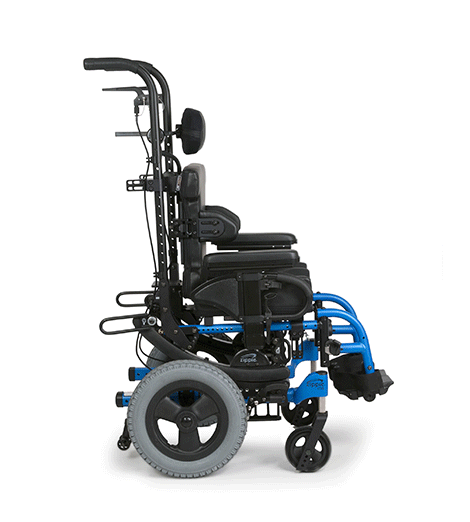 This tilting wheelchair uses patented rotation-in-space technology to rotate the seat frame around the user's center of gravity. This rotational system provides the shortest possible wheelbase without compromising stability. It also ensures a smooth and controlled rotation.
Description
With patented Intelligent Rotation in Space technology, the Zippie IRIS tilt in space wheelchair features a seat frame that rotates around the child's center of gravity. The rotation arm was designed specifically for paediatric users to ensure a smooth tilting motion. It also helps children remain comfortable and secure while tilting, and it is easy for parents and caregivers to control.
Available with 40° or 55° rotation ranges that can be set to achieve up to 45° or 60° of posterior rotation, the IRIS offers superior positioning capabilities.
The Zippie IRIS recline wheelchair now offers the benefits of both rotation-in-space technology and an optional folding frame. Its patented XLOCK® folding crossbrace fully locks when unfolded for superior rigidity, and folds into a compact size for convenient transport.
The IRIS paediatric wheelchair is designed to maintain proper support for your child as they grow. The folding frame option offers up to 4″ of built-in depth growth and 2″ of built-in width growth. The rigid frame option is available with width-adjustable strut tubes.
Additionally, through the True Fit Growth program, the original Zippie IRIS owner qualifies for one free growth kit within 5 years. The growth kit includes all parts and components needed to adjust the seat width/depth of the chair.
The MONO Backrest System's single back post offers limitless seating and positioning capabilities. By mounting the backrest to a single central post, the backrest and chair widths may be selected independently to accommodate users with varying torso and hip widths. Hardware interference is eliminated, allowing for infinite adjustment of lateral thoracic supports. The MONO Backrest System can also achieve 1″ or 2″ of midline backrest offset to accommodate asymmetrical postures, features 85º of angle adjustment, and offers an optional dynamic function, which allows for controlled movement of the backrest.