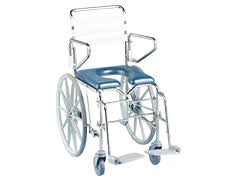 Designed for those who wish to travel and have personal independence, this K•Care Folding Shower Commode has a weight capacity of 120 kg, a seat area of 445 W x 430 D mm and dismantles quickly and neatly.
It has large self-propelling wheels that are flush with the top of the seat to allow unrestricted side transfer, simple-to-use swing-up arms and adjustable height swing-away foot rests.
Description
The back rest has 3 flexible straps for comfort.
560 mm rear wheels and 125 mm front castors make the unit easy to manoeuvre, and there is an integrated push handle when required.
The shower commode is durable and long lasting with a stainless steel frame, impervious PVC straps, reinforced nylon waterproof wheels and water resistant castors.
Product Code
KA130S
K•Care Shower Commode, Self Propelled Rear Wheels, Folding with Swing-up Arms and Swing-away Foot Rests, Stainless Steel Frame (Seat not included)
ALSO AVAILABLE
KA130SOL: Left Side Opening
KA130SOR: Right Side Opening
EAT
Designed to use K Care Healthcare Equipment's patented removable seats
They are easily removed for cleaning and service
They can be interchanged for another model to suit the individual occupant
SPECIFICATIONS*
Maximum Occupant Weight                         120 kg
Length (including Foot Rests)                       1050 mm
Width                                                             615 mm
Height                                                            985 mm
Back Rest Height                                           420 mm
Seat Width                                                     445 mm
Seat Depth                                                     430 mm
Seat Height (at front)                                     590 mm
Front Wheels                                                 125 mm diameter castors, swivel
Rear Wheels                                                   560 mm diameter wheels, braking
FINISH
Frame                                                            Stainless Steel
Back Rest                                                       PVC Straps