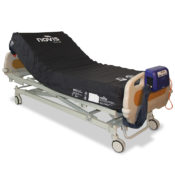 The ProCair is an advanced and easy use surface for patients up to high risk – optimal patient therapy and comfort; fully automated operational features; advanced safety features; easy set up and inbuilt error and service indicators. Available in Standard and King Single models.
Description
AutoCair
No more concerns over correct pressure level settings with our AutoCair feature – continuous automatic weight sensing technology that delivers fail safe patient comfort levels.
SafetyCair
The ultimate protection from 'bottoming out', alternating air cells contain an lower 'safety cell' which remains fully inflated to provide greater surface stability and patient safety.
Fowler Boost
Manual Fowler Boost mode adjusts mattress pressure to provide increased support under the sacral area when backrest is raised.
Service Indicator
Inbuilt service indicator for worry free maintenance.