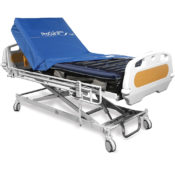 The ProCair Pro is our hospital grade replacement for patients at highest risk – superior specialised therapy , optimum infection control, powerful control unit for fast response and suited to heavier patients.
Description
ActivCair
Benefit from enhanced dynamic therapy and increased stability with the comfort of 1 in 3 alternation.
AcuteCair
Maximum infection control
SafetyCair
The ultimate protection from 'bottoming out', alternating air cells contain an lower 'safety cell' which remains fully inflated to provide greater surface stability and patient safety.
Side Bolsters
Static side bolsters increase patient safety and sense of stability, by reducing the risk of cell collapse at side edges.
HeelCair
Increased protection and therapy for vulnerable heels with an independent heel zone made up of narrower cells. Designed for individualised therapy to the 'at risk' heel and lower leg area, while preventing heels from sinking between the cells.
ClimateCair
Delivering the maximum warmth and comfort from your alternating pressure system, our ClimateCair cells are constructed from pure thermoplastic polyurethane (TPU) material for enhanced heat retention qualities.