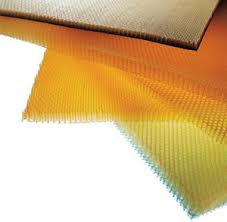 Supracor Also supply the following products:
• Bed pillows
• Mattresses (single/crib/cot sizes)
• Lumbar support
• Non-slip mats
• Car and furniture covers
• Stimulite on top cushion covers
• A wide range of lifestyle products
The Supracor SBS Honeycomb sheets can be used over many seating or positioning surfaces, immediately providing a cushion of insulating air to add comfort through improved moisture control and lack of heat generation. The SBS3 is available with a fabric backing for enhancement of arm and head rests without the need for further upholstery. The SBS sheets can be cut and shaped to adhere to any surface via gluing or stitching into place for any customisations.
Description
Supracor® is the originator of flexible, fusion-bonded honeycomb, a revolutionary new technology with exciting applications in all areas of high performance shock absorption.
In the form of sheets or cushions, the Supracor® Honeycomb distributes weight uniformly to relieve pressure points while providing exceptional stability. The honeycomb cells contour to body shape and flex with movement to absorb shock and prevent tissue trauma. Perforations in the honeycomb cell walls help circulate air to evaporate moisture. Excess moisture is also directed away from the skin by the air spaces in the honeycomb, making it an excellent choice for individuals who are incontinent or perspire heavily, especially those who live in warmer climates.
This discovery, therefore, promotes clean, healthy skin and minimises the risk of pressure lesions. Made from advanced medical grade material that's antibacterial, antifungal and odour resistant, Supracor® cushions and sheets are the modern approach to pressure management. They are also simple to clean, being machine washable and dryable.
All cushions come with a standard cover, but there is the option of incontinence covers if required. Custom sizes are also available on any design by special request. Supracor® cushions and sheets provide Total Pressure Management® in three ways; direct or interface pressure relief, reduced shear pressure and ventilation to control heat and moisture, bringing you a new level of comfort.
• Size: 24" x 24"
• 7 styles and densities available:
o SBS1 – 1/2 inch thick, bare honeycomb sheet.
o SBS2 – 1/2 inch thick, single-faced sheet.
o SBS3 – 1/2 inch thick, sheet with fabric on one side.
o SBS4 – 1 1/16 inch thick, single-faced sheet.
o SBS5 – 1 inch thick, single-faced sheet.
o SBS6 – 3/4 inch thick, and 1/4 inch thick single-faced double honeycomb panel.
o SBS7 – 3/4 inch thick, double-faced, firmer honeycomb sheet, ideal for correcting pelvic obliquities.
• Washable