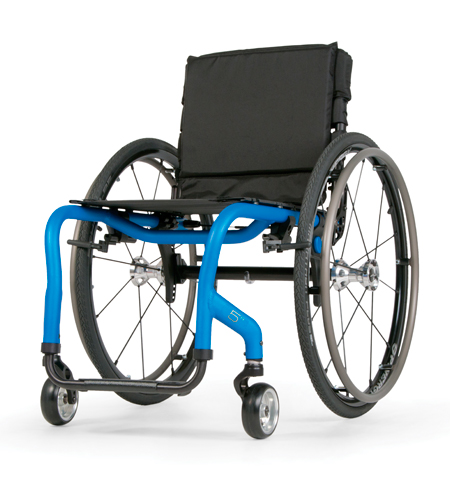 The Quickie 5R features a highly adjustable wheelchair design without compromising on the rigid wheelchair feel and performance. With the infinitely adjustable centre of gravity and ability to adjust the backrest height and angle – You'll always find a seating position that suits you best!
Description
The Quickie 5R's open frame design takes the proven ride quality and geometry that so many have loved about the GT and improves upon it with a swept-back, hydro-formed caster link for added style and a smooth ride.
The Quickie 5R offers two manual wheelchair frame options. The Classic frame features a traditional frame length for maximum stability. The shortened Performance frame length offers maximum responsiveness.
The swept-back axle plate design adds to the 5R's style and features a colour window for an extra pop of color on your active wheelchair.
But it isn't just for looks – it is also incredibly quick to adjust. Available in two lengths – short (4.5″ of vertical adjustment) and long (6″ of vertical adjustment) – this axle plate ensures you are getting the adjustment range you need without adding unnecessary weight.
The 5R adjustable wheelchair offers premium options that can elevate your product.
Choose Topolino Carbon Core wheels at 1.1 kgs per pair to your lightweight wheelchair.
Go with the XTR Suspension Frame, Mountain wheels, Knobby tires, and Frog Legs suspension forks for rugged chair performance.
Add the Quickie Xtender motorised wheels to multiply the force you apply to the handrims by four times.