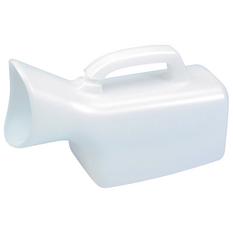 A lightweight urinal bottle with integrated handle and anatomically shaped opening designed specifically for the female user.
Description
Can be used when seated or standing.
Key features
opaque bottle
free of sharp edges inside and out
graduated measurement markings
integrated handle with sturdy grip
durable and easy to clean and disinfect
Due to hygiene regulations, product cannot be returned after purchase. Warranty replacement for faulty or defective product only.