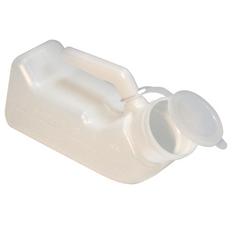 A lightweight urinal bottle with attached lid designed to help prevent spills.
Description
Can be used when seated or standing, in several alternative positions.
Key features
lid attached to bottle
lightweight translucent bottle
free of sharp edges inside and out
graduated measurement markings up to 1000 ml
sturdy grip for easy hold and handling
durable and easy to clean and disinfect
Due to hygiene regulations, product cannot be returned after purchase. Warranty replacement for faulty or defective product only.