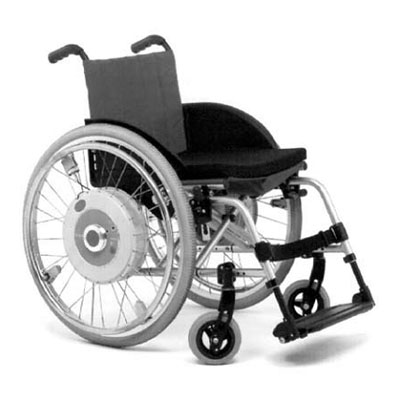 E Motion is based on a very simple operational principle: when the user applies force to the push rims, the motors engage and assist with propulsion of the wheelchair.
Description
There are three different levels of support available at the push of a button:
• Stage 1 – minimum support, for indoor use,
• Stage 2 – for outdoor use on even terrain,
• Stage 3 – maximum support for uphill stretches or for users requiring total support.
Depending on the user's level of disability, left or right hand support can be adjusted independently. When switched off, the wheelchair is ready for manual use.
The electric motors have rechargeable battery packs that are integrated inconspicuously into the wheel hubs. There is no disturbing motor noise due to the gearless and maintenance-free drive mechanism.
Because of handy snap connectors, the individual parts are easy to attach and remove, so wheelchairs can be disassembled and transported as normal.
• Provides active mobility with little effort
• 3 different levels of support at the push of a button
• Transports easily