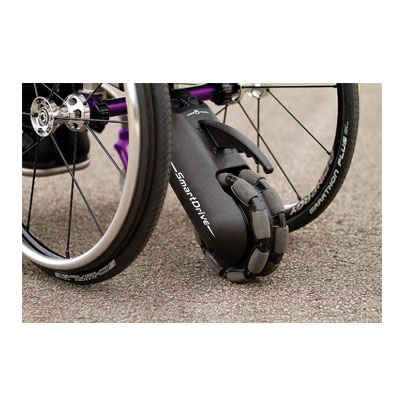 The SmartDrive® is a revolutionary power assist device that gives greater freedom and power to chair users.
MX2 PLUS has lights on the drive unit which indicate your battery level. This is not only great for regular wheelchairs, but for tilt in space manual wheelchairs. MX2 PLUS can be switched to training mode while users get familiar with the operation. MX2 PLUS is OK in rain and through puddles (but not to be submerged in water). MX2 PLUS is great to use in conjunction with the FreeWheel.
Description
Wireless Technology: introducing the SmartDrive MX2 PLUS Intelligent wrist control. Smart and fashionable, the new intelligent wrist control senses your movements and knows when you're ready to stop, and when you're ready to get moving.
All in one Unit: Convenient single-unit design. Installation is faster and easier than ever with the rechargeable battery pack built right in. Just hook the unit onto the quick mount bracket and you're all set.
Folding Wheelchair Compatible: Compatible with folding chairs The optional quick-release mounting bar is a dream come true. Just pull back on the spring loaded flanges to quickly attach or remove your SmartDrive MX2.
POWERFUL – Cruises up hills and over thick carpet
INTUITIVE – Double tap to go, Single tap to maintain desired speed and Double tap to stop. It's that simple. Unit can also operate in standard MX2 mode, Single push to go and Single tap to stop.
SIMPLE – Turn on and go all day without charging
FLEXIBLE – Moves with you for wheelies and curbs
LIGHTWEIGHT – So light, you won't even know it's there