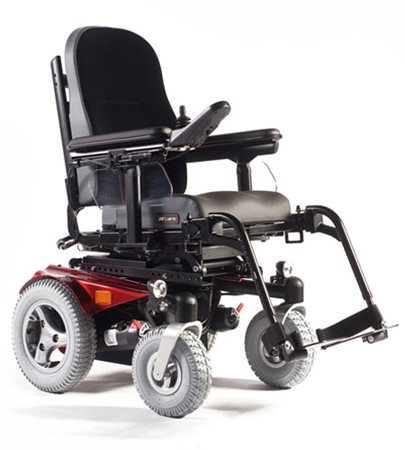 The Jive R2 offers a high-performing, reliable and stylish rear wheel drive power solution for the active user, who requires indoor maneuverability balanced with outdoor use. Features like base suspension, an intuitive rear wheel drive base and PG Drive electronics, provide superior ride comfort over any terrain.
Description
The Quickie Jive R² incorporates impressive outdoor and indoor performance. This RWD durable base offers great stability and control. Powerful motors and independent suspension can achieve up to 10 kph speed without compromising on manoeuvrability.
The Jive R² seating system is sleek, beautifully simple and highly adjustable. Adapting seating systems and accessories couldn't be easier with the versatile ASAP II seat frame. Designed to fit you, the Jive R²'s seat frame provides simple adjustment of the armrest and seat. The Jive R2 also has a low seat to floor height starting from 43cm.
Recline – All the benefits of shear reduction and a Jay J3 Back. The integrated Jay J3 Back option offers easy attachment of your favourite Jay J3 Back and headrest.
You can further customise your Jive R² by expanding the control system with R-Net. Personalise your chair by assigning commonly used commands and settings to a single button. For conversations on the move, keep tweets and status updates flowing by using the Jive R²'s Bluetooth option to control your smartphone or tablet. Or control your environment via infrared with Jive R²'s Omni controller. If a joystick is not suitable you can even customise the way you control your Jive R² with a variety of speciality controls.