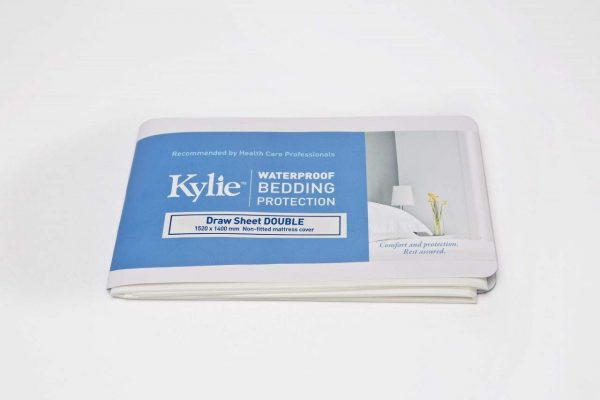 Suitable for home use and in aged care and hospital environments.
The KylieTM Waterproof Bedding Protection range has been developed using a soft, durable waterproof material that's specifically treated with an anti-bacterial and anti-fungal agent to prevent odours and inhibit the growth of bacteria.
Description
These washable bed pads provide comfort and Protection.
Available Sizes
Code           Description                                                                     Size
8357002    Kylie Pillow Cover – Rustle Free                                69cm x 48cm
8357003    Kylie Fitted Mattress Cover Single                            188cm x 92cm x 20cm
8357004    Kylie Fitted Mattress Cover Double                          188cm x 140cm x 20cm
8357006    Kylie Fitted Mattress Cover King Single                    202cm x 104.5cm x 20cm
8357007    Kylie Fitted Mattress Cover Queen                            204cm x 53cm x 20cm
8357013    Kylie Draw Sheet Double – Non-fitted                     152cm x 140cm
8357014    Kylie Draw Sheet Single – Non-fitted                       152cm x 90cm
8357015    Kylie Draw Mac – W/proof backing with tuck ins     1m x 1m