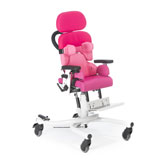 Description
MADITA
Thanks to the versatile options, sizes and adjustment possibilities, MADITA is for all ages from toddler to teenager.
Individually adjustable seat dimensions and supporting pelotte pads allow a stable and upright sitting position.
The seat height can be adjusted to different table or playing heights using a gas pressure spring support.
Seat tilt is adjustable via gas pressure spring, and can therefore be adapted quickly and easily to the current condition of the child.
MADITA can be adjusted if required with a slight forward tilt, thus making activities easier and promoting activation of the back musculature.
During relaxation phases, the therapy chair can be set to horizontal position.
• Adjustable armrests, foot bench, push handles, standard seat & back cushions
• Hi-lo function – 12cm range
• Adjustable seat width, depth & angle
• Height adjustable backrest
OPTIONAL EXTRAS:
• Removable backrest, different headrests, swing away side supports, thigh guides, pommel, individual adjustable footrests, tray table, harnesses