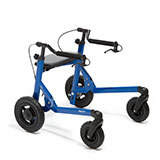 MALTE Outdoor  The compact and versatile posterior-walker for outdoor
Description
MALTE Outdoor is a walking aid especially suitable for children from early support up to adolescence.
The abducted frame shape forms a large support surface and at the same time limits pendular motion outwards.
The individual width and height adjustable handles allow adaptation to the individual body measurements.
The easy-fold base frame allows problem-free storage and transport in the smallest of spaces.
Equipment such as wheel stops for the handlebars and return stop are already included in the basic model.
The universally adjustable buttocks pelotte pad allows the correction and support of upright and walking positions and can be turned into the backrest of the seat in one easy step.
Available  in 3 Sizes