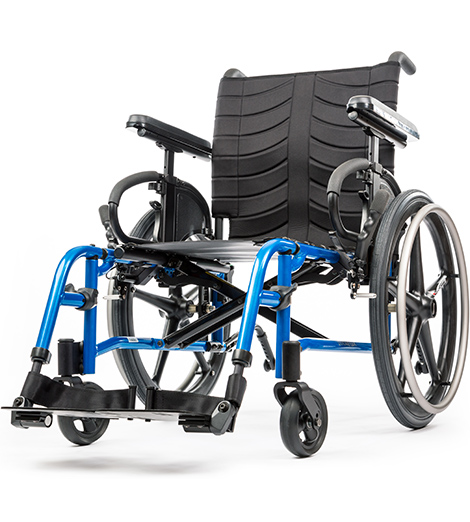 The Quickie® QXi™ folding wheelchair is a durable, low-maintenance frame that is perfect for the person looking for simplicity, longevity and Quickie's most popular options and outstanding value. Adjustments are quick and intuitive.
Description
The QXi's 120kgs weight capacity frame is built to last. During its rigorous durability testing, the QXi frame emulated 20 years of reliable performance! Its one-piece side frames and three-arm crossbrace that locks inside the side frames reduce moving parts and give this folding wheelchair a more rigid ride quality.
The QXi is remarkably easy to service. Many of its most common adjustments, including centre of gravity, seat height, camber, and back height, can be made in less than one minute and using only one tool. The QXi's low-maintenance design will have you back to what you love in no time.
Whether you are foot propelling or eating dinner with your family, the QXi's super low seat heights give you the freedom to move about your environment with ease. A 13″ seat height can be achieved with 5″ casters, which give you the ability to manoeuver over thick carpet or outdoor obstacles.
The Quickie QXi's new EXO upholstery boasts a modern and comfortable design. Offered with or without tension adjustability, the EXO upholstery provides optimal positioning and is simple and fast to adjust. Its light weight and premium aesthetics means it's a perfect complement to the Quickie QXi folding wheelchair.