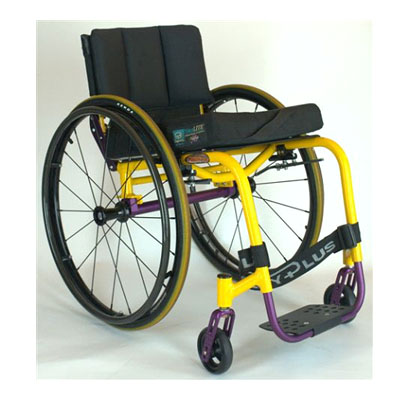 • Folding, fixed or lift-out backrest
• Fixed camber tube
• Padded back upholstery with adjustable tension
• Adjustable seat tension
• Footrest with adjustable height, depth and angle
• Tough powder-coated polyester finish in many different colours
• A huge range of options and accessories so the wheelchair can be customised for each individual
• Available in titanium
Description
Calling this wheelchair design the "Ultra" is no idle boast. The frame has been designed in the sought-after "V" shape for the ultimate ease of handling. The frame is ultra-light and ultra-manoeuvrable. It is ultra-easy to push and ultra-smart to look at. It is made in our tempered aluminium alloy which is one of the lightest aluminium wheelchairs in the world. It retains incredible strength due to our tempered elliptical aluminium-alloy tubing.
The Ultra, when made in Titanium, is also one of the lightest in its class in the world. Being so light and manoeuvrable, these wheelchairs truly become part of you in your independent manual mobility. As the Ultra is a completely customised chair created at the Mobility Plus manufacturing facility, it is as flexible and varied as every wheelchair user is.
The Ultra includes built-in adjustments, like the variable rear axle positions, the multi-adjustable foot-rest and the adjustable back upholstery. When teamed up with light-weight wheels, the Ultra is amazingly easy to manage in motor vehicles and other travel applications, making it the ideal chair for the active wheelchair user.