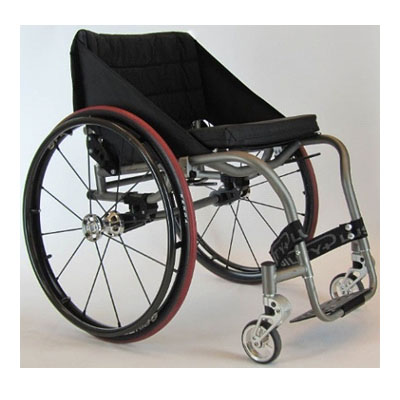 Lockable folding, fixed or lift-out backrest
• Adjustable angle alloy foot-plate with adjustable calf-strap
• Dacron padded adjustable back upholstery
• Precision sealed bearings throughout
• Adjustable back and seat tension
Description
Few can use Titanium: fewer do it well. The exciting minimalist Zero from the designers at Mobility Plus is one of the lightest rigid wheelchair frames in the world.
Made exclusively in all-welded Titanium, the Zero is unsurpassed in manoeuvring ease. Mobility Plus has been a leading manufacturer in Titanium wheelchairs for over 15 years, and our special-process, heat-toughened Titanium tubing provides incredible durability. Just as well! Each Zero only fits one person perfectly; the one person we build it for.
Mobility Plus cares for the finest details in personal measurements, so that the Zero will react to the slightest adjustment of manual direction.