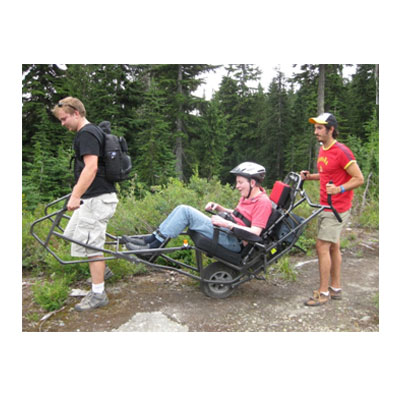 The TrailRider is a one wheeled mobility device designed to transport the keen adventurer through rugged paths and trails.
Description
The wheel supports the rider's weight while the handles at the front and the back allow two, three or four helpers, "sherpas" to guider the rider up and down tracks. With only one wheel and no carrying involved, it is possible to negotiate obstacles and over difficult rough terrain. The TrailRider is a precision made vehicle, engineered to the highest specifications. It has taken people with disabilities to places they never thought were attainable. It is equipped with side handles to facilitate simple transfers between the device and a wheelchair. During a long hike the position of the seatback, armrests, footrest and seatbelts can be adjusted periodically to maintain a comfortable seating position. The TrailRider is available in both a manual and motorised version (existing manual TrailRiders can have a motor fitted to them).
• Lightweight (23kg) aluminium frame is
strong with welded joints
• Folds in half making it easy to transport
• Engineered to the highest specifications
• Ergonomically designed with fully adjustable seating
• Footrest and armrests ensure comfort for riders with "Sherpas"
• Disc braking system for safety and reliability
• Large profile pneumatic tire rolls smoothly over all terrain
• Cargo compartment conveniently holds equipment and hiking gear
• Quick release pins make seating adjustments and transport easy
• Seatback insert for children included
• Powder coated for a durable finish.