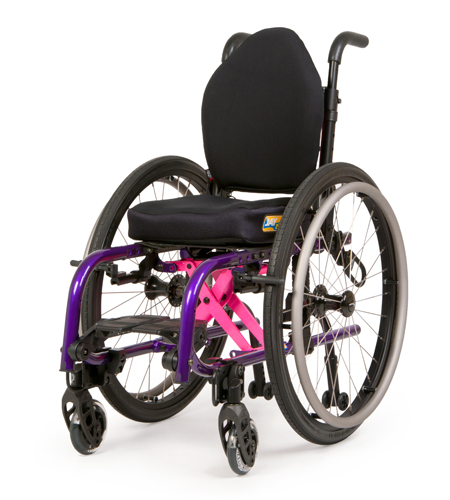 Rigid wheelchair performance and folding wheelchair convenience. Designed for active and growing kids, the ZIPPIE X'CAPE weighs as little as 8.6kgs and features a versatile frame available in over 600 colour combinations.
Description
The X'CAPE's setup can be fine-tuned to provide the best possible access to the wheels for each child. As they grow, 2″ of growth in the crossbrace and 3″ in the seat rail keep your child positioned properly for maximum independence.
The Zippie X'CAPE's patented XLOCK™ folding crossbrace fully locks when unfolded, creating a level of performance, efficiency, and durability comparable to a rigid frame wheelchair. And it couldn't be easier to transport. One-step push-to-lock and pull-to-fold functions are easy to operate with just one hand.
The X'CAPE's 27 frame colours and 24 crossbrace colours can be chosen separately to create over 600 colour combinations, so your child can sport their team colours, school colours, or personal favourites!
The Z-finity™ System's footplate can be adjusted between .5″ above the seat pan to 21″ below the seat pan to provide proper support as your child grows. Its rotating hardware allows for infinite adjustment of the footrest angle and placement to achieve optimal positioning of the feet, ankles, and knees.
Z-finity is available with both of the X'CAPE's front frame options – Swing-in/Swing-out and Fixed. Choose Swing-in/Swing-out hangers for aid in transfers and pulling up close to cabinets and counters. Choose Fixed hangers for the lightest weight configuration and an active style.
The VersaRail also makes ordering simple by offering one seat rail system that is compatible with both sling upholstery and custom seating options.